Version: v11.5.0
---
Selection Limit​
This property sets the maximum items that can be chosen at run-time. It also determines whether the list can have single or multiple items selected. This property can be bound to a variable to determine the selection limit at run-time.
Multiselect​
Multiselect will enable users to select multiple list items at runtime. These items can be captured via the selecteditem which will be an array of objects. See Usage Scenarios for more details.
Item Reordering​
Enabling reorder will enable users to reorder the list items at run-time.
Disable Item​
This property will disable all the events on the item and other widgets present it.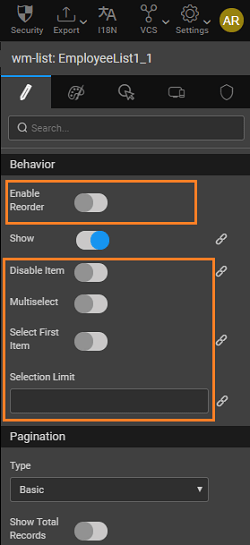 Touch Events​
Tap, Double Tap, and Long Tap events allow you to set actions associated with the touch events.
Selection Limit Exceed​
This event is bound with the Selection Limit property that gets invoked when you exceed the count of the maximum items that can be selected in the list.